Reinventing Pink with Indian Wedding Dresses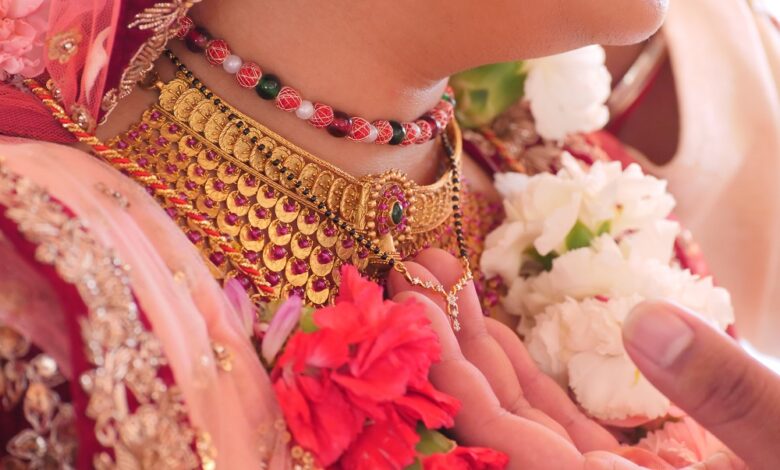 Pink is one of the forever colours for Indian wedding dresses. The charismatic charm of pink lehengas makes it a sweet combination of traditional and chic.
However, over the last few years, more brides are opting for off-beat colours like green, ivory and blue. The colour has also gained a reputation for being "too mainstream."
That's where we beg to differ.
A versatile colour like pink has a varied range of hues starting from blush pink, coral pink to bright fuchsia. How can it be mainstream?
With a clear objective in mind, we have decided to show ways to reinvent pink for your wedding lehenga.
Styling with Double Dupatta
The elegance of the double dupatta cannot be denied. It adds layers and interesting textures to a bridal designer lehenga. Choose a colour that you can effortlessly carry with your pink dupatta.
The second dupatta can be beige, mint green, gold, red, yellow, peach—the list goes on. You can also play with different shades of pink!
Pair Hot Pink with Parrot Green/ Sunshine Yellow
This combination plays perfectly for brides wearing designer sarees at their wedding. With a dash of pink on the blouse and a hot pink dupatta; choose a parrot green or sunshine yellow saree.
The colours complement each other very well making for a bold bridal look. You are the bride so play with colours as much as you want!
Choose A Dupatta in A Different Colour
If you think to make your pink wedding lehenga more interesting, this is the easiest way.
Choosing a different hue for the dupatta will make your basic pink lehenga look way more unique. You can go for orange, blue and even corals.
Go Full Glam with Silver Shimmer and Glitz
What's better than being the ultimate Bollywood bride at your own wedding?
Live your dream with a stunning pink and silver lehenga. The silver provides a dazzling shimmery effect to the whole look. We advise going for diamond or stone-encrusted jewellery.
A brown smoky eye and muted lips and you will look like a dream.
Choose A Multicoloured Lehenga with A Pink Dupatta
The mix and match trend has been going on for quite some time now. Make your outfit the centre of attraction by choosing a multicoloured lehenga with a pink dupatta.
The hues will go perfectly for a sangeet or even a day wedding. And the best part is that you can wear this lehenga for other festivities!
Choose a Different Coloured Skirt
The good thing about Indian ethnic dresses is that they can be styled in many different ways even if it's a bit tricky.
Choose a beautifully embroidered lehenga like the one below from Like a Diva. Create symmetry by having your dupatta in the shade of your lehenga skirt.
A pink and grey lehenga is an off-beat choice but it's a totally different way to wear pink. The point here is to create a balance of colour palettes.
Dual-Toned Lehenga
Dual-tone designer lehenga usually comes with stunning patterns and prints. This is a great way to add a splash of colours to your wedding attire.
Pro tip- keep the makeup minimal and let your lehenga steal the limelight.
A Subtle Mix of Pink Hues
Having your wedding designer sarees or lehenga infused with subtle shades of pink is a great way to rock pink.
If you aren't the OTT kind of bride, this trick will serve you perfectly. The multiple hues of pink will create a mesmerising colour palette giving your wedding dress a new twist.
Here Are Some Colours That Basically Works with All Shades of Pink:
Ivory
Icy blue, baby blue
Parrot green, mint green
Peach and coral
Bright yellow
Champagne
Silver and gold
Lilac
Turquoise
Orange
Red
Which one was your favourite look? Do you have new ways to style your pink lehenga? Share with us!
Photos by https://www.likeadiva.com