Tips for Packing Your Moving Boxes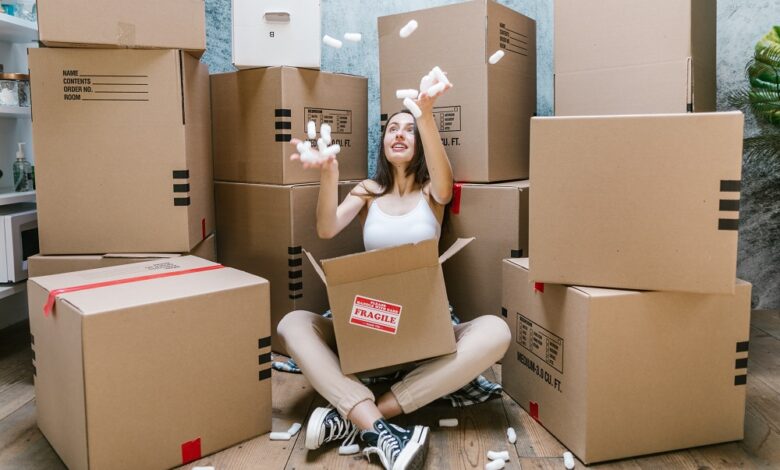 Congratulations on your dream home! New home not only comes with a lot of responsibilities but consists of loads of work too. Yes, and it will sink in soon amid all the excitement that you are shifting houses and have to pack everything safe and secured and that too within a few weeks.
But we are here, and you need not panic at all. Here are a few tips that will make your shifting easy-peasy.
Gather Your Packaging Supplies
When you have some time to pack your things, the last thing you would be thinking about should be cardboard packaging boxes, tapes, packing papers, Bubble Wrap, and other packaging materials. What you can do instead is pack all your supplies ahead and store them neatly in a clean place, like a garage or a spare room for example. This will save a lot of time and ease the process.
Designate A Space to Store Boxes
When you are packing boxes, you must designate a place to store the moving boxes altogether. A garage is the ideal place for this purpose and allows you to keep the boxes away from the bedrooms, hallways, on top of almirahs and tables, and so on. So, for obvious reasons, it is important that you clean and pack your garage first because once you have started storing the boxes, packing the garage area won't be possible.
Next, Do the Attic
Probably the most dreaded part of a home to pack is the attic and you must be tempted to save it for the last. And after weeks of packing and carrying cardboard boxes here and there, you will be tired even with the thought of working on the attic. Thus, if you get your attic done at the very first, it will feel that you are done with a lot of work at once, and will feel more motivated to tackle the rest of the shifting with ease.
Pick One Room A Day to Pack
Once you have sorted out the garage and the attic, the rest will be buttery smooth. We are assuming that you still have a few weeks to move, so pick up one room at a time. It will be less overwhelming to sort out, clean, and pack your belongings of one room at a time. Also, we believe that each time you finish doing a room, there will be a sense of accomplishment of completing a room, rather than picking stuff from here and there and getting everything mixed up.
Spend A Couple of Days Wrapping
It may not be Christmas yet, but once you are finished with all your packing, and you are feeling accomplished, I am sure that you will feel the same the way you do before the festive season. To wrap the breakable items, designate a day or two. Take time to wrap the pictures, lamps, dishes and do that individually. It might sound very tedious but you will be so grateful to us when you will have all your favourite items reaching intact to your new home.
The Kitchen is To Be Dealt with At the End
No, it is not that you will have small electronics in your kitchen and it will need ample time to pack those little gadgets. But it is because you would need to cook food and use most of the gadgets until the moving day. As the moving day arrives, you can start packing your utensils and introduce disposable ones for the last few days in your own home. However, you can plan and keep the most necessary kitchen equipment stored in small cardboard boxes so that you can still cook for a few more days and tape and tag them at the last.
We still do not have anyone talking about the joys of packing but it is a job that needs to get done by most people at some point or the other in their lives. You may not do anything as we suggested but trust us, last-minute packing when you are shifting is too much of a trouble. Instead, schedule it from beforehand, make your packing ordeal easier, and obviously, we wish you happy shifting.